Stefanos Tsitsipas maintained his unbeaten record in grand slam quarter-finals with victory over Jiri Lehecka to reach the last four at the Australian Open.
The third seed made it six from six in the last eight at majors with a 6-3 7-6 (2) 6-4 victory over 21-year-old Lehecka, who had never won a grand slam match before arriving in Australia.
The young Czech had defeated Cameron Norrie and Felix Auger-Aliassime to make the last eight but was broken in his first service game and, although he put on a creditable display, it was not enough to take a set from Tsitsipas.
The Greek, who along with Novak Djokovic still has a chance of finishing the tournament as the world number one, will take on Karen Khachanov in the semi-finals on Friday.
Earlier, Khachanov reached a second consecutive slam semi-final after Sebastian Korda retired with a wrist injury when trailing 7-6 (5) 6-3 3-0.
The 22-year-old American has been one of the stories of the tournament, defeating Daniil Medvedev and Hubert Hurkacz to reach a first slam quarter-final 25 years after his father Petr lifted the trophy.
But he took a medical time-out after five games of the second set to have his wrist taped and called it quits after losing the next seven games.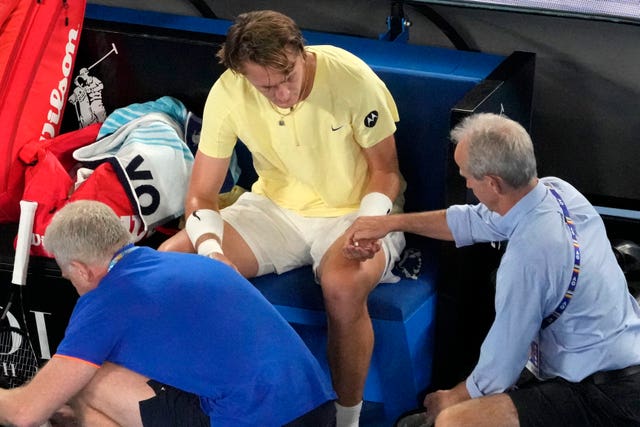 Korda said of the injury: "I had it a little bit in Adelaide a couple weeks ago but then it went away. During the matches, it was completely fine. Then, just one kind of mis-hit return and it started to bother me a lot after that.
"Some forehands, I couldn't even hold the racket. Volleying was almost impossible for me. So it was a little tough."
It has nevertheless been a breakthrough fortnight for Korda, and he added: "There is a lot of positives, way more positives than negatives. Today was tough but hopefully it's nothing serious and I can take care of it so I don't have it in the future.
"I'm really proud of myself. Going forward, I'm going to keep on trying to do the same thing, keep on mentally being the same way. I think I can do some really big things in the near future."
Khachanov has lagged behind his fellow Russians Medvedev and Andrey Rublev – who will take on Djokovic in the quarter-finals on Wednesday – but went further than both at the US Open and it could be the same story here.
"Daniil was in front of us, me and Andrey, but still, Andrey was top 10," said Khachanov. "I was top 20, top 15. At one point I think I dropped to 25 or 28, in 2021, that was the moment where I had some personal issues and tougher times, let's say.
"Not everything was going as smooth but I always believe in myself and my abilities and what I need to do in order to be at my best.
"So I think with my team, we are on the right direction and I think this kind of competition in a positive way between us helps us to get better."