The number of education settings in England where collapse-risk concrete has been found has risen, the Department for Education has said.
Another 27 schools and colleges have been identified with reinforced autoclaved aerated concrete (Raac) on site.
Overall, 174 education settings in England have been confirmed with Raac as of September 14.
The original list – published earlier this month – showed 147 Raac sites as of August 30.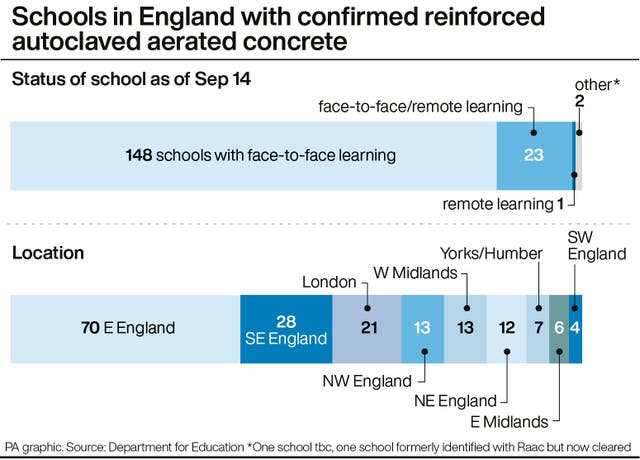 The updated list suggests 24 settings are offering some remote learning because of the sub-standard concrete found.
One secondary school in east London – Stepney All Saints Church of England Secondary School – has had to switch to remote learning for all students because of Raac, according to the DfE list.
An additional 23 schools are providing a mix of face-to-face lessons and remote learning to pupils as Raac was present in their buildings.
As of September 14, there were no schools which remain closed at the start of term due to Raac, the DfE figures suggest.
Education Secretary Gillian Keegan said: "We are taking a cautious approach so every parent in England can be reassured their child is safe in their school.
"School and local leaders deserve huge credit for making sure the vast majority of settings with confirmed Raac are continuing to offer pupils face-to-face learning – including all of the 147 schools initially identified two weeks ago.
"We will continue to work closely with affected schools and provide both expert and financial support to minimise disruption and keep staff and children safe."
The DfE said 148 of the 174 education settings confirmed to have collapse-risk concrete are offering full-time, face-to-face learning to all pupils.
Last year, the DfE issued a questionnaire to responsible bodies for all schools in England to ask them to identify whether they suspected they had Raac.
Responsible bodies have submitted responses to the questionnaire for 98.6% of schools with blocks built in the target era, the DfE has confirmed.
Paul Whiteman, general secretary of school leaders' union the NAHT, said: "The 27 schools additionally identified today will all be working tirelessly to make sure children get the education they deserve despite the disruption.
"But we still need a real sense of a clear plan not just to put short-term mitigation measures in place, but to properly repair or replace buildings so they are fit for purpose.
"Propping up ceilings with metal poles is clearly not a serious option in the medium or long term."
He added: "This situation has been brought about by years of neglect and underinvestment in the school estate.
"Too many schools have been allowed to fall into a state of disrepair and the current crisis is just one symptom of a problem that has been long in the making."
School system minister Baroness Barran and the DfE's top official, permanent secretary Susan Acland-Hood, were questioned by MPs on the Education Select Committee on Tuesday.
Baroness Barran said the number of schools affected by Raac that were now able to give face-to-face teaching had increased since the start of term.
She said: "That underlines the work that has gone on on the ground for children who were, when we last published data, either in hybrid or remote or had a delayed start to term."