Prime Minister Rishi Sunak should suspend Dominic Raab from the Cabinet while investigations into alleged bullying are ongoing, according to the leader of the largest trade union in the civil service.
Failing that, Mr Raab should step down, said Mark Serwotka, general secretary of the Public and Commercial Services (PCS) union.
Mr Serwotka claimed the handling of the case had also contributed to a "collapse in morale" among civil servants.
He said that civil servants felt "scapegoated" by Mr Raab's suggestion that it is possible for them to make malicious false claims against him in order to have him removed.
Mr Raab, who holds the Cabinet posts of Deputy Prime Minister, Lord Chancellor, and Justice Secretary, has pledged to resign if he is found to have bullied staff.
He is being investigated by senior lawyer Adam Tolley KC, and dozens of officials are thought to be involved in eight formal bullying complaints.
Speaking on Sky's Sophy Ridge On Sunday programme, Mr Serwotka pointed out that other ministers have been found to have bullied civil servants yet remained in their post.
He said: "While Dominic Raab is going through a process, we know that Priti Patel was found to have bullied civil servants in the Home Office yet she got away with hardly a sanction.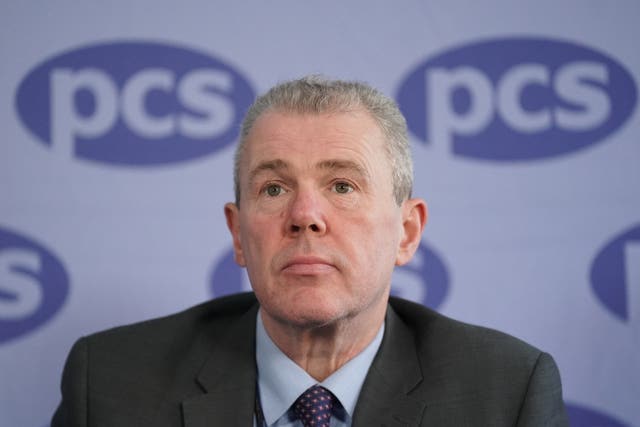 "We know that Suella Braverman broke the ministerial code, yet now she issues emails accusing her own workforce of blocking her Rwanda policy.
"And now we have Dominic Raab with not one complaint, but numerous complaints (against him).
"The point I would make is if one of my members had an allegation like this against them, they would be suspended.
"He should step aside, or he should be suspended while the allegations are investigated.
"And it's time the Government realised that the way they are being seen to treat their workforce causes a collapse in morale and causes people to really question whether they can play a role in public service when they're not only treated like this by ministers, but scapegoated by ministers as soon as something goes wrong."
Mr Raab, who has given evidence to the inquiry, said on Friday that it is "improper" to discuss his conduct until it has concluded.
Speaking about his relationship with civil servants, he also said: "Of course, you want to have a positive relationship.
"With the vast majority of people, that I do, that is the case. But I'm not going to comment on the allegations or the claims."