Millions of Nigerians were heading to the polls on Saturday as Africa's most populous nation holds governor elections, amid tensions after last month's disputed presidential vote.
New governors are being chosen for 28 of Nigeria's 36 states as the opposition continues to reject the victory of president-elect Bola Tinubu from the country's ruling party.
On Friday, armed security forces were patrolling the streets across the states where elections were being held.
Situation Room, a coalition of civil society groups, said: "Ahead of the elections, the security situation across the country appears tense, with reports of violence, kidnap and assassination in several states."
By Saturday night, the counting of votes has started in most of the polling units across the country, though the winners in most of the states are not expected to be announced until Monday.
Voting was postponed in a few locations, including in a Lagos town, over fear of attacks on electoral officials.
The performance of the Independent National Electoral Commission "has improved considerably compared to the February 25 elections, but violence has been much more intense across the country," said Idayat Hassan, head of the Centre for Democracy and Development, Nigeria's largest democracy-focused group.
The group, which deployed more than 1,200 observers for the election, said violence in the election was more rampant in the southern region.
Local observer group YIAGA Africa said it found several instances in which voters were intimidated and prevented from voting unless they agreed to cast their ballots for certain political parties.
At a security meeting in Nigeria's capital, Abuja, this week, Nigeria's national security adviser Babagana Monguno said security forces have been deployed in all violence hotspots.
"We must allow everyone to exercise their fundamental rights as citizens of this country. Anybody who is itching to undermine this process should please think again," said Mr Monguno.
Despite being Africa's largest economy and one of its top oil producers, Nigeria's development has been stifled by endemic corruption and bad governance, which in many cases involves governors.
Nigeria's constitution grants enormous powers to the governors yet they are immune from any form of prosecution throughout their four-year tenure with a two-term limit.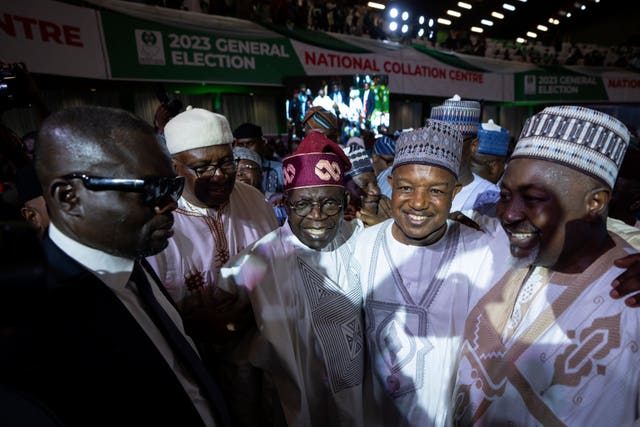 Three political parties have emerged as frontrunners among the 18 filing governorship candidates in the 28 states.
Although there are a record 87.2 million registered voters, analysts fear a repeat of the low turnout in last month's presidential vote, 26.7%, the lowest in Nigeria's history.
In Abuja, Kate Imadu, 26, was among many who could not vote in the presidential election despite waiting all day and into the night to cast her vote.
That has made her less interested in travelling to her town in Cross River state to vote for the next governor, she said.
"What is the need of travelling when I couldn't vote here during the presidential election?" Imadu asked, echoing the frustration of many others.
Nigeria's Independent National Electoral Commission has promised to address challenges that arose in last month's election, such as the delays in voting and uploading of results, both of which opposition parties alleged caused the disenfranchisement of voters and the manipulation of results.