Adam Hills said his father being diagnosed with cancer "convinced" him he had to be funny.
The 52-year-old Australian comedian said he still hears his father's words telling him "Good luck in London" when the opening titles for The Last Leg play.
Hills, who has a prosthetic foot, has hosted the show with fellow comedians Josh Widdicombe and Alex Brooker since its inception for the Summer Paralympics in London in 2012.
Due to its popularity and ratings success it became a permanent fixture and has continued since, with Hills serving as the host.
His father died in early 2013 following 15 years living with non-Hodgkin lymphoma.
Speaking to the podcast Talking With Cancer, released on Wednesday, Hills said: "My dad's friend once said to me, 'I guess this must be really hard for you as a comedian … you probably won't want to be funny for a while, but I'm sure it'll come back'.
"I remember thinking, 'no, this has made me more convinced that I need to be funny'. Partly because I wanted to talk about it, but I remember there being a moment where I saw my dad in intensive care, when he was at his worst.
"He just shook his head saying 'there's nothing more we can do'. I remember thinking 'I can still make him laugh'.
"As a comedian, you always think 'I probably should have done a proper job … I probably should've been a doctor, I probably should have saved lives'.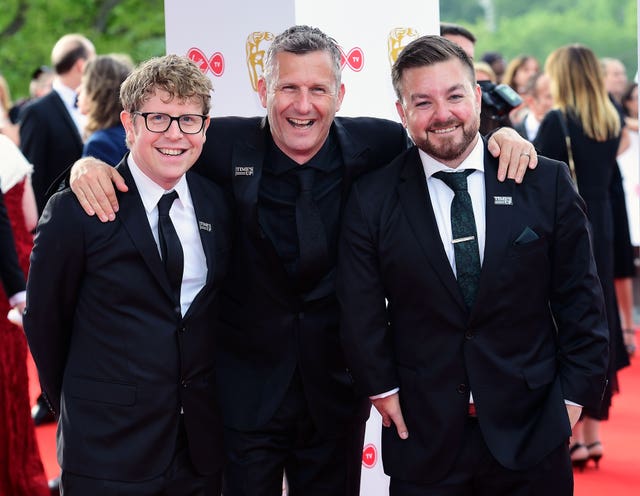 "But at that specific moment, the guy standing in front of me, trained as a specialist in his field, couldn't do anything for my dad. Whereas I could. I could still make him laugh or smile in his last moments."
Hills said his father would go into remission during the 15-year period from his diagnosis to his death.
"He was fine, and he went into remission and then there's that moment that I know a lot of people who go through cancer have, which is when the doctor says, 'I don't need to see you anymore'," he said.
"And that hit him harder than anything because he was like, 'well, how do I know I don't have cancer?'
"It wasn't the relief that you'd think it would be … I remember him saying that 'I should be relieved that I don't have to go back to the doctor any more, but all I can think is 'how am I going to know? What if it comes back? How am I going to know that it hasn't come back?'"
When he returned to see his father in Australia in 2012, Hills had to explain he would be returning to the UK to film The Last Leg as it had been picked up as a permanent fixture.
Hills added: "After we had a little Christmas Day and I said goodbye to him, he looked at me with real determination, and he said 'Good luck in London'. He said it as if it was almost like a final thing.
"In my head, I think he knew then that he was on the way out, and I'd like to think – and I'm probably projecting but I might not be – that he also knew that I was on the right path and that things were going to work out for me. 'Good luck in London' was almost like he was saying 'that's where you should be' and 'it's going to be fine'.
"Every now and then, before an episode of The Last Leg, when the music is playing, the opening titles are playing and the audience start applauding just before the camera comes on me … I'll just remember my dad saying 'good luck in London', and it just reminds me that this is where I'm meant to be. I'm in the right spot."